Attending therapy and counseling can be a wonderful experience.
Being able to express yourself naturally with someone you can trust and who will not judge but offer the help you need in return can be, and often is, a life-changing process.
At Alternative Therapy LLC, we strive to provide you with empathetic and kind-hearted counseling and therapy for your benefit. For more than a decade, our therapists and counselors have helped people in Hamden overcome their depression, anxiety, familial problems and discrepancies, and so much more!
We believe in utilizing creative approaches to treatment and working diligently to engage with clients who may feel uncomfortable with mental health and social services providers. Our professional counselors are supported by a trained administrative staff prepared to support our clients, their case managers, and associated professionals through the entire clinical assessment and counseling process. All therapeutic work is enhanced by our agency's weekly clinical supervision peer-review process that assures the most relevant treatment method for each client.
If you are looking to start walking a new path and changing your life for the better, you can rely on our counseling services to help you grow and fix those problems that have kept you from enjoying your life to the fullest.
Here are some of the ways that our therapists can help: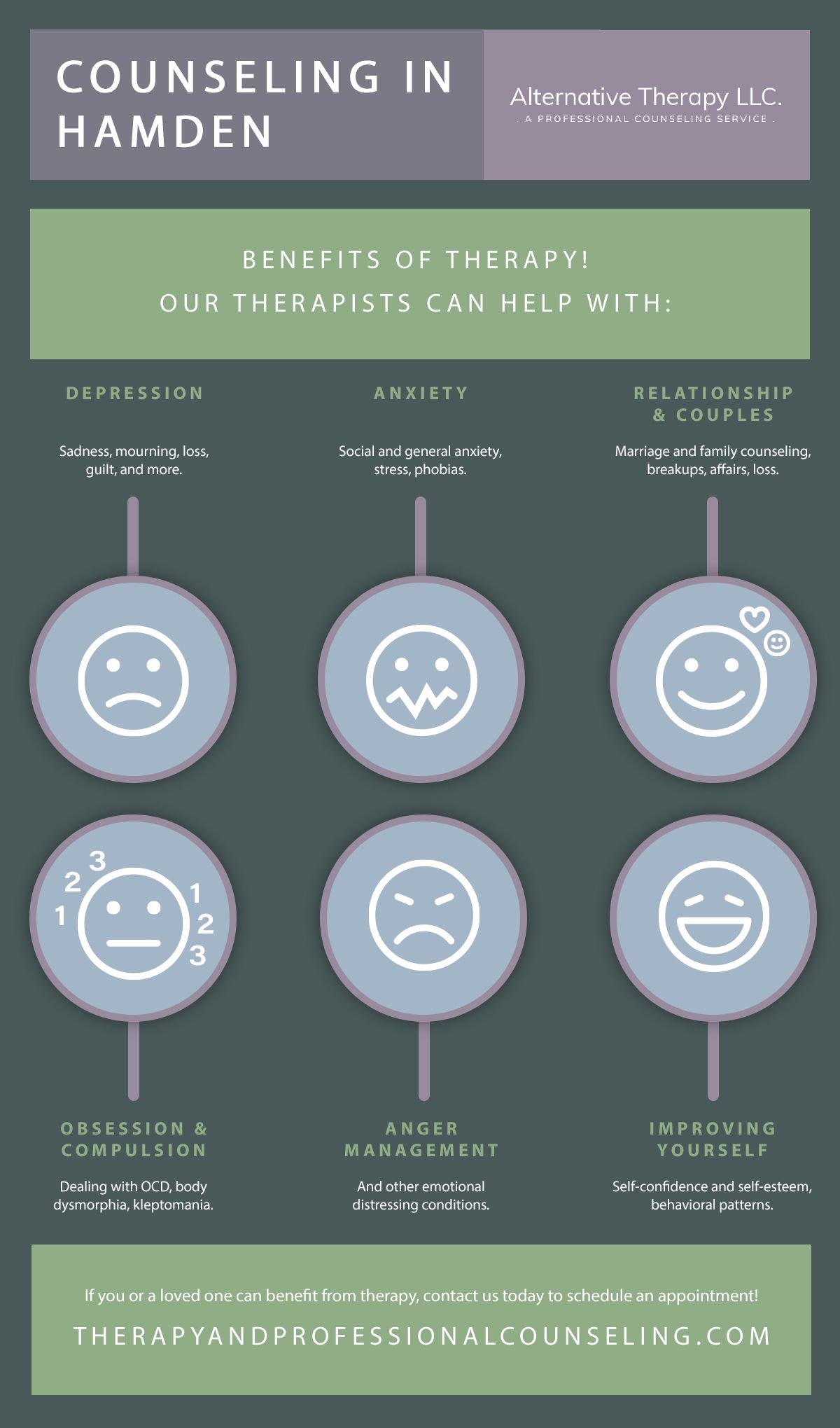 Services We Offer
The team of counselors and therapists at Alternative Therapy offers a wide range of help and strategies that can help you overcome your problems or conditions while growing into a better version of yourself.
We know it takes a great deal of courage to acknowledge the problem and, furthermore, great strength to admit that you need support to help you move forward. Our therapists are understanding of whatever you may be going through and we want to let you know that receiving therapy is a common practice and it's encouraged — we think of it as you giving yourself an opportunity to evolve from past experiences and grow into the beautiful person you can be!
Here are some of our services: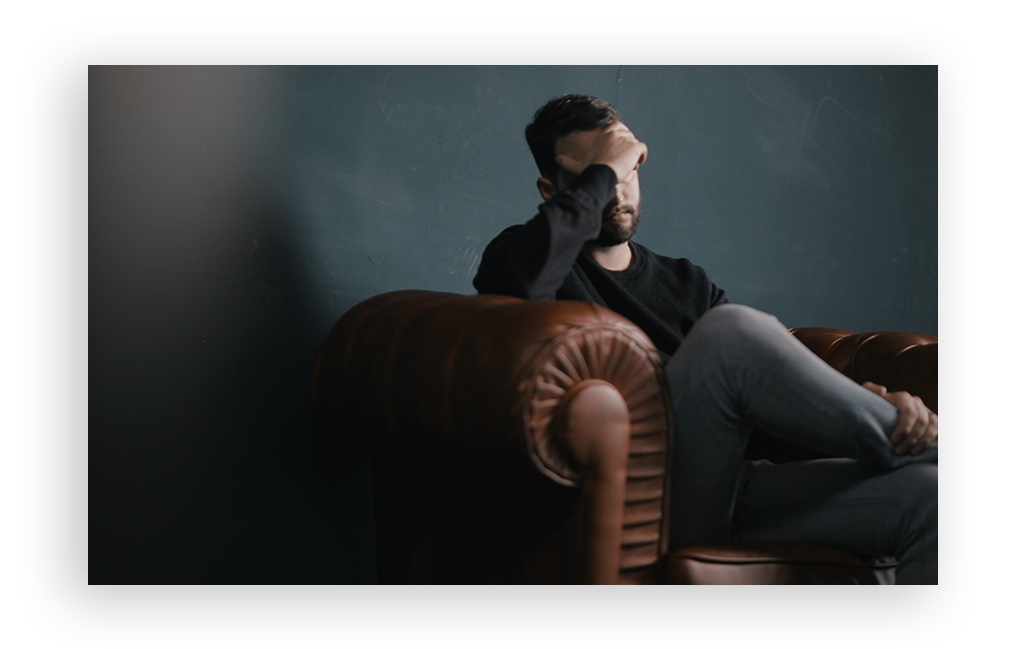 Individual Counseling
There are so many reasons why you would want to start going to therapy. Whether you are having issues or problems which curb your happiness or stop you from doing the things that you love, or you simply want someone you can trust to talk about the things you don't feel as comfortable sharing with others.
Our counseling sessions are designed to make you feel comfortable. We are a no-judgment zone and want to offer a safe space for you to express yourself.
Our therapists will take everything you have to say into consideration to make sure that you are being offered support and solutions that are tailored to you. We are aware that everyone deals with problems differently and that not every solution is perfect for everyone.
People can be tied with problems and at times you might feel like the world is against you. However, you don't have to solve those problems alone. When you start a therapy session with one of our counselors or therapists in Hamden, you not only will have a professional hear you and understand what your situation is, but you also will have someone who presents solutions backed by tools and methods that have been proven to work.
There's nothing wrong with seeking help from friends and family — they can be a very important part of your improvement — yet, more often than not, these people don't have the necessary training or experience to provide the answers that will help you along the way.
Click the button below to learn more about our individual counseling services or keep reading to hear more about the other services we can provide.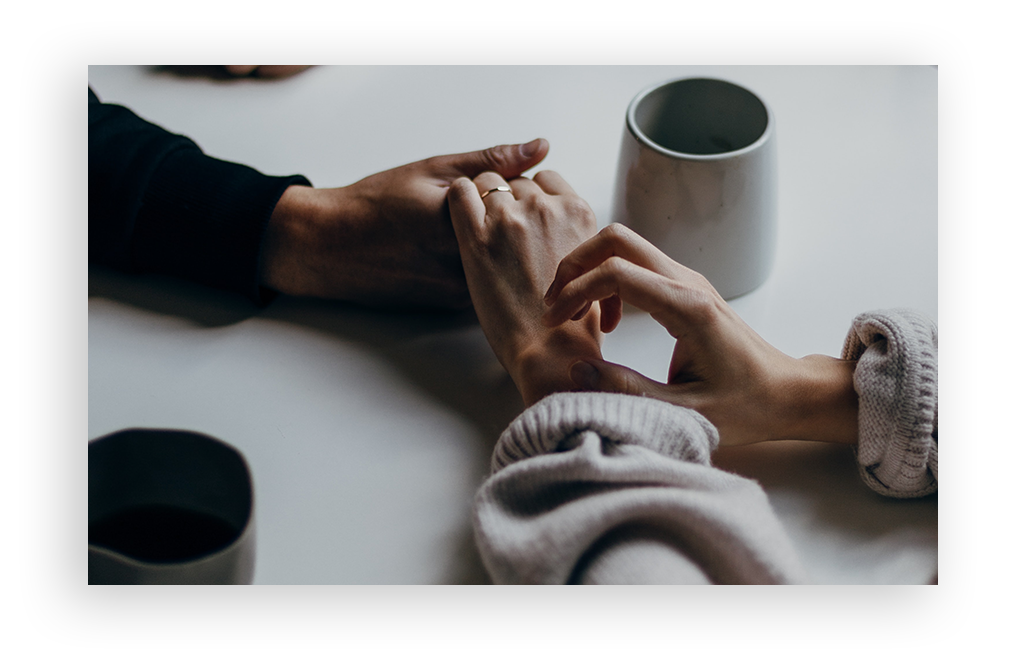 Couples Counseling
Seeking couples counseling is not only a thing for people with substantial problems in their relationships but it can also be a great way to strengthen your relationship or solve minor inconveniences which could turn into bigger problems in the future.
People often tend to have disagreements and this is just as common for couples. The advantage of having a therapist mediate and hear the people in a relationship is to reach a better understanding between those involved.
Acknowledging there's a problem in your relationship, as small as it may be, is a healthy way to start mending the situation and creating a more solid connection with your significant other. A solid relationship is often based on communication and mutual understanding which can sometimes be challenging for some people to either grasp the concept or for someone to express their feelings. The counselors at Alternative Therapy have decades of accumulated experience and have helped many couples deal with the internal problems that can cause ruptures in the relationship. We offer many solutions and approaches to couples. Here are some of the things we can help with:
Premarital counseling

Intimacy

Communication

Attachment

Affair recovery

Divorce recovery

Second marriage

And more!
Click the button below to read more about our couples counseling services.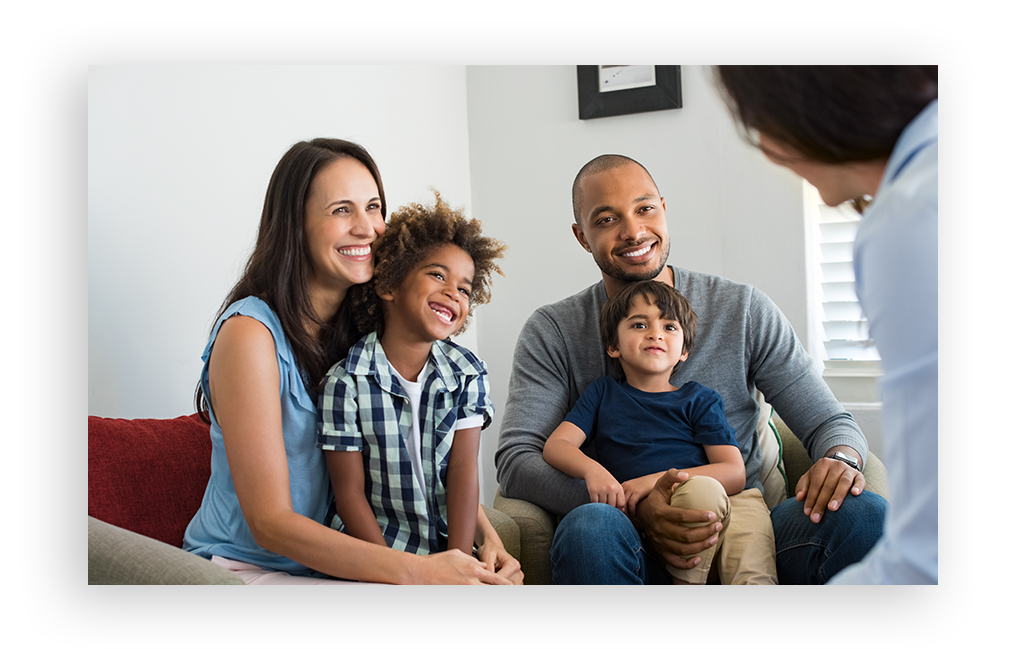 Family Counseling
When family issues arise and it feels like they could be affecting your family connections, an understanding and empathetic family counselor can be what you and your family need to get past the hurdle and improve from those problems.
Families can be complicated. Dealing with your own problems can sometimes be overwhelming and it can get even harder when you are dealing with family problems where two or more people are involved.
Like we mentioned before, seeking help from a counselor is not a sign of weakness but an admirable act. When people look for professional therapy to help them solve their family problems, it means that you and your loved ones are willing to put in the effort and emotional strength to improve on your relationship and grow.
If your children are showing behavioral problems, the family is dealing with loss and grieving, there's drugs or domestic abuse happening, or someone is dealing with depression and anxiety amongst other problems; you and your family can greatly benefit from seeking counsel from a therapist. Click the button below to learn more about our family counseling services or to schedule an appointment!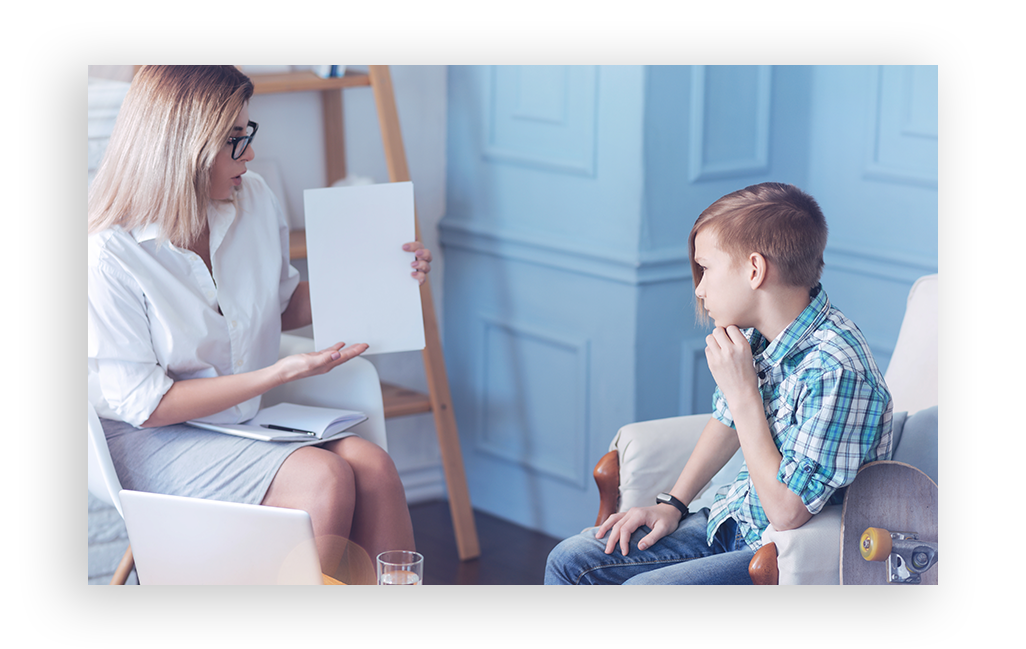 Counseling for Children & Teenagers
As parents, sometimes we don't have the necessary resources or tools to help our children — no matter how much we want to help them or how far we are willing to go to do so. Even though you may think that you know your child better than anyone else, they may not be as open with you as much as you would like them to be.
Other times, there are problems that adults may perceive as minuscule, but when experienced by a kid or a teenager, these problems may look and feel extremely hard to deal with. At the same time, if your child is able to deal with these problems earlier rather than later, it could result in them not having to deal with those problems in the future.
The therapists at Alternative Therapy can offer your child a safe space where they can speak freely and build trust in order to express themselves. Kids may be reluctant to speak to their parents due to being afraid of letting them down or of being embarrassed to expose themselves to the people they love — whatever the reason may be, a therapist can approach the situation with the required experience to help them be comfortable and open up about their emotional or mental issues.
If you wish to know more about our children and teenager counseling services, you can read more by clicking the button below!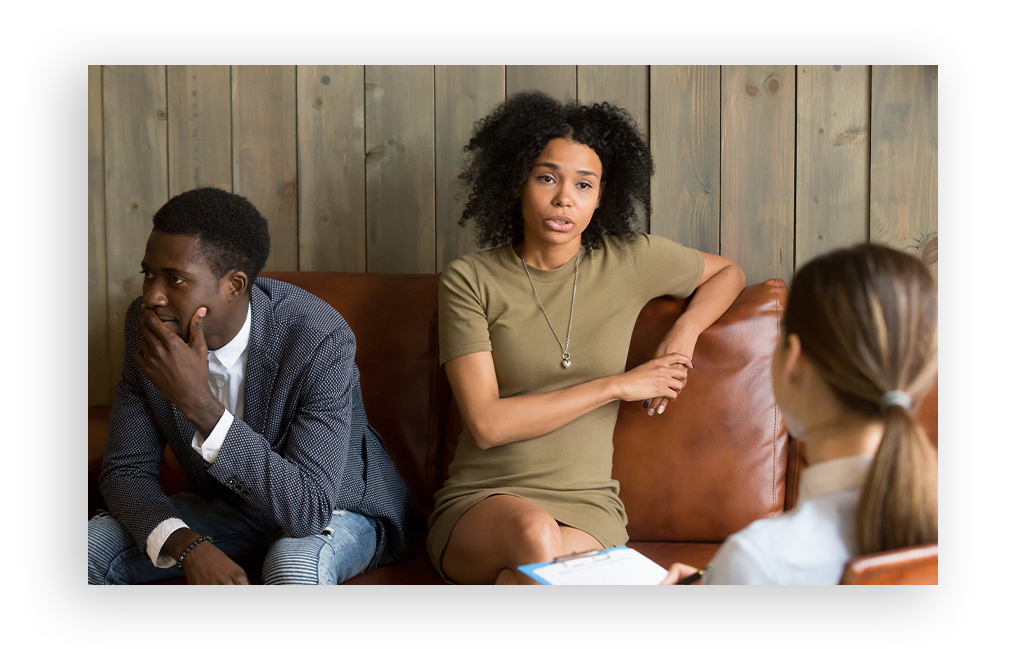 PTSD, Depression, & Anxiety Counseling
If you are dealing with depression or anxiety, or you are seeing your life affected by past traumas, you don't have to deal with it on your own. Your mental health is as important as your physical health, and acknowledging that there's something bothering you in your life can be the best and perhaps the hardest step to take.
The therapists at Alternative Therapy strive to learn more about your problems and tackle each one of them with a compassionate solution. We want to let you know that we are here to help you traverse any blockage that may be affecting you.
You can greatly benefit from having a therapist guide you through issues that you might think irreparable. At times, we tend to allow depression or anxiety to get the best of us and beat us into submission, to a point where we feel that there's no way out. One of the great advantages of having a therapist or counselor is that they can often reveal or offer insight from other perspectives that you might not have seen before — these views can change your thought process behind your problem and allow you to improve and grow from it.
Some psychological issues might take more time than others and we are aware of that. We want to let you know that no matter your situation, our therapists are willing to spend the necessary time it takes for you to outgrow the problem with the right, tailored tools and techniques. Learn more about this service by clicking the link down below!

Compassionate Therapist in Hamden
The Alternative Therapy counselors and therapists are always willing to work hard with you to search for that empowerment and drive that you need to move forward and start a new chapter in your life.
Seeking help from a therapist can be a hard decision to make, and we want to let you know that there's nothing to be concerned about. We understand that you might be feeling overwhelmed by what you are going through, or even by thinking that you are going through a moment of weakness, when it really is normal for anybody to go through problems like these.
We want to encourage you to be the better version of yourself and feel the drive to accomplish more in your life with less mental burden and blockage. Our mission is to give you the tools you need to heal and fix the issues that could be dragging you down.
Here are some of the reasons you may want to give therapy a try: Have Someone There For You
Being able to know that you are not alone when dealing with your problems can in-and-of-itself be a great step forward to start improving yourself. Sometimes we feel helpless because no one seems to understand what we are going through or perhaps we don't think we can share our problems with people we know due to embarrassment or not wanting to be a burden.
This is why a therapist can be the solution you are looking for. Knowing that the person who listens to you is there to do exactly that, can be a great relief and give you the confidence to open up and express your feelings and concerns. Avoid Self-Medication
Self-medicating psychological issues is a common problem we see on a daily basis. People tend to "deal" with these problems by suppressing or hiding their emotions or even masking them with other substances which can bring more complications later on in life. Long-Term Effects of Therapy
When you receive help from a therapist or counselor, these effects can persist down the road and become a core part of your life to promote constant improvement and growth — just like you can feel the negative effects of mental illness and other problems pile on and exponentially worsen, the positive assistance from a therapist can help you rebuild yourself to do the exact opposite and push that exponential positive growth. Help With Repressed Emotions
Your repressed emotions, if left unchecked, can come back to haunt you and make matters even worse. When you allow yourself to share these issues with a counselor you are potentially dealing with the problem and finding solutions along the way. Physical Treatment
Psychological issues or trauma are known to have physical repercussions in some people. Lack of energy, stomach aches and headaches, sleeping disorders, and muscle pains are only a few of the physical problems that can arise when we are under severe stress, anxiety, depression, or PTSD. Dealing with your mental and emotional problems can potentially help with physical problems if they are connected. Deal With Future Problems
You can count therapy and counseling as life lessons and teachings that can help you down the road, if there are problems in the future. While not every issue is triggered by the same events, the things you previously learn and deal with in your therapy sessions can be the right tools to solve other things that you might experience later in life. Fully Visualize Your Problems
When you are able to talk about your problems, you can give them a shape and form to deal with them more efficiently. Sometimes, we don't know how deep or shallow the problems are until we express them in depth. You could be looking at something and thinking is not affecting you in any way when it really could be the source of your problems — the opposite can be just as correct.
At Alternative Therapy in Hamden, we want to express how proud we are of you for taking that initial step towards getting help with your mental and emotional health. The simple act of coming here to read more about these issues is a great move towards improving and taking the necessary steps to get better. Our therapists and counselors are always here to help and are excited to meet with you. Your health and happiness are of utmost importance to us and we want to let you know that you are not alone.
Contact our team of therapists in Hamden today to schedule an appointment and start building the foundation of a beautiful and happy life!